!!TIKTOK BAN!!
Will TikTok ban in india?
About
TikTok is a Chinese video-sharing social networking service owned by ByteDance. ByteDance is a Beijing-based internet technology company which was founded in 2012 by 'Zhang Yiming'. It is used to create short dance, lip-sync, comedy and talent videos. You might have heard news about banning of chinese apps including TikTok. So, here you will know, will tiktok ban in India?
Now you will think that why have I underlined 'talent' word there. I have underlined that work because according to me, 90% of tiktok is filled with cringy and useless videos that have no sense. And that remaining 10% videos are not promoted by TikTok.
ByteDance firstly launched Douyin for the China market in September 2016. Later, TikTok was launched in 2017 for iOS and Android in markets outside of China in other countries. It became available in the United States after merging with Musical.ly on 2 August 2018. Then it's name changed to TikTok.
So well, almost everyone know's about TikTok, so now the point is, will it ban in India again?
TikTok ban previous year
Last year, the Indian government issued a ban on all over 18 websites and platforms in the country for hosting content related to child pornography. In a follow up to that, the government issued a ban on the popular short video platform TikTok on 2019.
After it was found to host content related to bad stuff like practicing dangerous stuff on camera etc. Obliging to the government order, Apple and Google pulled off the TikTok app from their respective app stores.
But due to it's great demand, this app was published again after some months. And then it's craze came back to people after it's comeback.
What TikTok's developers said so far?(2019, after TikTok ban)
TikTok's developer Bytedance had initially filed a petition to stay the interim ban to the Supreme Court. After that case was diverted to the Madras High Court, the request was denied and the ban was implemented but people were not sure about it.
Prior to the ban, Bytedance issued a statement saying that they were confident that its 120 million users would continue to use this platform.
They also said that it removed over 6 million videos that violated it's "Terms of Conditions and Community Guidelines', following a review of the content that was generated by TikTok users in India.
Will Chinese apps get banned in India?
Recently, there is a trending topic going on almost every single social media platform i.e boycott chinese products. The trending hashtag on twitter is also #boycottchineseproducts.
And also recently a news came up highlighting that the Indian Government is putting a ban on all the chinese apps available on playstore and appstore both on Android and Ios.
This was a list of total 42apps-:
Social Media
E-Commerce
Beauty apps
File sharing
Browsers
UC Browser
APUS Browser
CM Browser
DU Browser
News aggregator
Xiaomi
Tencent
Tools
These apps were said to be banned by the government because a news came up that these apps are not safe for users and hence dangerous for your device too. This was because these apps leak data outside the country and case it as misuse of user's important information and data.
These apps ask for permission before using the users data and then misuse it and some of the apps don't even ask for permission and directly uses the users data for misusing it. This information was stated in the news.
So, the question here is…
Will TikTok ban in India?
And the answer is….. NO.
No, the Government is not putting a ban on these Chinese apps on Android, iOS.
And also, TikTok will not ban in India till now but nobody knows about future.
Chinese apps have been facing a backlash amid tensions between India and China. However, the government is not putting any kind of ban on these apps on Google Play Store and Apple App Store.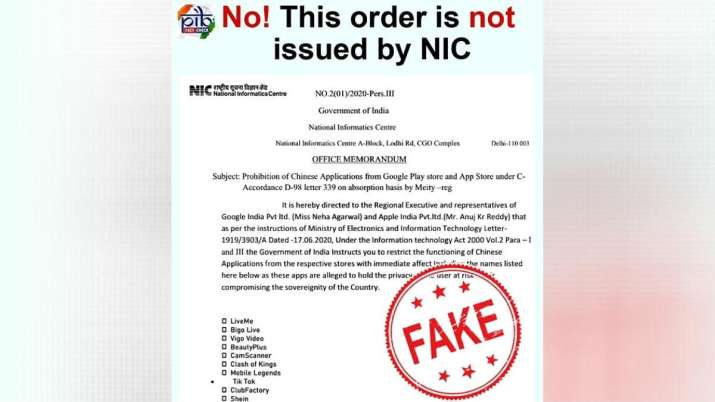 The Government of India has made it clear that they are not indulging in the ban of any of these applications listed above. This came right after a message claiming that the Ministry of Electronics and IT had put restrictions on several "Chinese applications" in India got viral.
It further suggested that the National Informatics Centre (NIC) that comes under the Meity, has asked Apple and Google to remove these Chinese apps from the Google Play Store and Apple App Store respectively. In the alleged list, the apps like TikTok, Vigo Video, ClubFactory, Shein, Clash of Kings, and many more famous apps like these among others are listed.
You can checkout more about this topic from here.
So, that was it. Till now, there is no news coming up about these Chinese apps getting banned in India including TikTok. If there will be anything related to this, I will let you know.
Thank You for reading this Blog
Please do checkout my other blogs too-:
Only at https://techondemand.in/